On the set of The Last Movie directed by Dennis Hopper
The American Dreamer (1971), a documentary portrait of Dennis Hopper is one of the great lost films of the early seventies. Made in 1971, as Hopper was basking in the glory of his Cannes winning film Easy Rider, and before the release of his second film The Last Movie (which would turn out to be a colossal bomb), The American Dreamer was filmed mostly around Hopper's ranch in New Mexico and finds the bearded director (who could have strayed from the cover of The Band's second album) baring his soul (and his ass) for the camera. Hopper's musings on art, filmmaking, photography, sex and politics are wonderfully pretentious, including an incredible sequence where Hopper, with the need to feel "self conscious" strips off his clothes and walks down a sleepy LA suburban neighbourhood, balls naked. In between bouts of Hopper firing off various hand guns and rifles, and indulging in some softcore grappling with 2 girls in a bathtub, we see a pensive Hopper overseeing the endless editing on The Last Movie, while trying to stave off Universal who are anxious to see what Hopper did in Peru with all their money.
The American Dreamer remains commercially unavailable today; apparently the film has been kept out of circulation by Hopper himself, which is not surprising as the film is hardly a flattering portrait. In one unnerving sequence, he indulges in, some rather Manson-like group sex with a bunch of groupies, (which he calls a "sensitivity encounter"), and at one point, Hopper mentions that he has visited Manson in prison. In a cringe worthy sequence, Hopper declares he is a male lesbian — I'd rather give head to a woman than fuck them… Basically, I think like a lesbian. The American Dreamer was co-written and directed by L.M. Kit Carson who would go on to write Paris Texas and The Texas Chain Saw Massacre Part 2. The soundtrack is composed of awful folk songs, written for the film — at one point the track The Screaming Metaphysical Blues goes — Here's to Mr. Hopper who traded in his chopper (?) with the two best songs, Outlaw Song and the title track are by The Byrd's Gene Clark. The film may not be officially available but can be found through the usual channels, and for Dennis Hopper fans and students of American independent Cinema, it is required viewing. —Plutonium Shores
Previously on Cinephilia and Beyond:
Easy Rider LaserDisc Commentary with writer/director/actor Dennis Hopper
Cameron's underwater epic was a shoot so torturous it not only almost sunk the director's career but turned some of the crew's hair white — literally. Take a deep breath: The Making Of The Abyss.
This binder contains countless production used storyboard copies of the complex Special Visual Effects shot for James Cameron's undersea science fiction epic The Abyss. Also included is a Film Crew contact list, a two page prop inventory, and two humorous documents, one a memo written in the voice of a southern person from Gaffney, South Carolina where The Abyss was filmed and a cartoon of an Alien NTI mocking the I Want My MTV with "I Want my NTI" instead. The binder is dated 9/26/88 and is an interesting look into the production of the film.
This is one of the best motion picture documentaries I have ever watched. It is right up there with Hearts of Darkness: A Filmmaker's Apocalypse, the documentary about the making of Apocalypse Now. James Cameron opens the documentary by talking about something he feels is cold, dark and made up of unrelenting pressure: the movie business. The documentary really gives the viewer a good idea of how The Abyss was a challenge on many different levels. Not just on a technical level. The documentary also shows how it was a challenge, both emotionally and physically, for all the cast and crew involved in the project. It would soon be considered by many to be one of the toughest shoots in film history.

It was interesting to learn about the innovative underwater equipment developed just for the film, plus seeing how some of the best underwater photography for a motion picture to date was accomplished. James Cameron has a reputation of being difficult to work with and this film shows why this may be the case. It is up to the viewer to decide whether or not this is true once the viewing experience is complete. If you have not seen the film you will have a great appreciation for what went into the making of this underwater epic. If you have seen The Abyss, you will enjoy the movie even more than you did before.
If you've ever wondered what a conversation between Quentin Tarantino and Brian De Palma would be like, then the documentary in the video embedded above has – among many other things – the answer to such curiosity. A BBC production from 1994, Quentin Tarantino: Hollywood's Boy Wonder profiles the titular filmmaker in the wake of the success of his now-classic Pulp Fiction.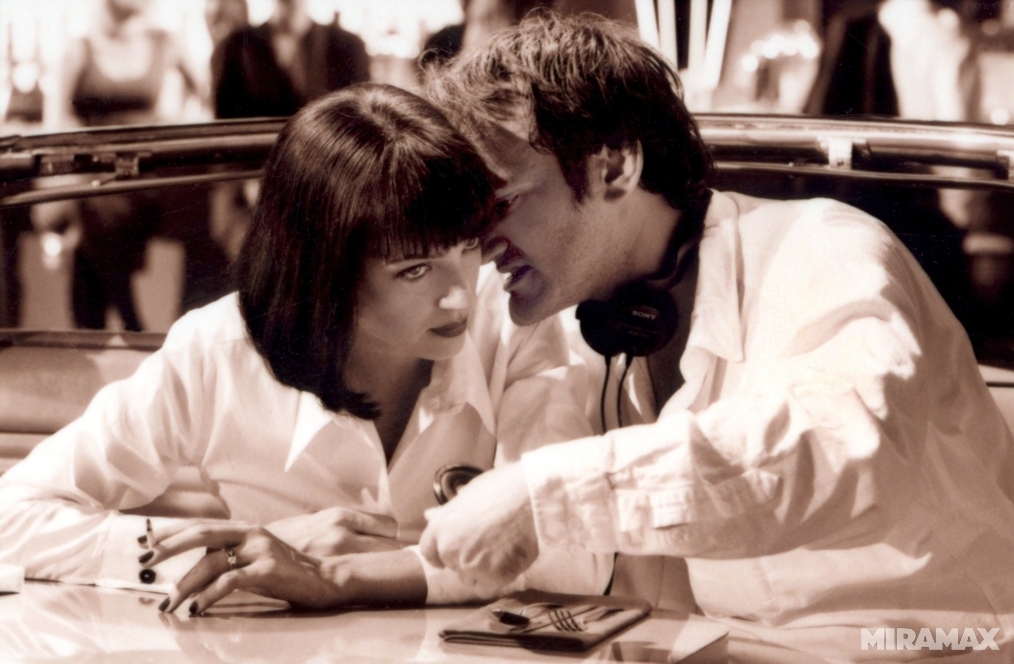 The documentary is mainly comprised of interviews, many with the director himself in his apartment, but the highlight for most will be the scene of Tarantino and De Palma talking about the similarities in their careers of having to deal with public attention regarding the violent content in their films (this comes after an extended sequence featuring Tarantino explaining his love for De Palma, which includes a personal scrapbook of printed interviews and a description of the influence that Casualties Of War had on certain elements in Reservoir Dogs). —The Seventh Art
Here is the script for Pulp Fiction, written by Quentin Tarantino & Roger Avary; Masterclass de Cannes; Tarantino on screenwriting…
Fritz Lang Interviewed by William Friedkin (1974). From running away from home, to surviving by his wits, to making his classic films Metropolis and M, to meetings with criminals and murderers — one killer kept the hands of victims under his bed, to his meeting with the Nazi Mad Man, to Hollywood and after, Lang, looking rather like Dr Strangelove, describes his hugely fantastic life. —Paul Gallagher

A document of exceptional historical value, allowing cinema lovers to hear the Master in his own words. Friedkin is a fittingly discreet yet searching interviewer, and at the time of this had just shot (or was about to shoot) THE EXORCIST! Fritz Lang is everything you imagine him to be, even this late in his life, elegant and picky with words, with a great memory for detail. The whole thing is shot in gorgeous black and white, with very good quality sound and picture. One only hopes the vaults remain opened for more of this incredible material.
Cinéastes de notre temps: Le dinosaure et le bébé, dialogue en huit parties entre Fritz Lang et Jean-Luc Godard (1967).
Fritz Lang à la Cinémathèque de Paris, 1965.
A fantastic documentary on one of the key people in the history of cinema. A portrait of the pioneer photographer, forefather of cinema, showman, murderer — Eadweard Muybridge was a Victorian enigma. He was born and died in Kingston upon Thames, but did his most famous work in California — freezing time and starting it up again, so that for the first time people could see how a racing horse's legs moved. He went on to animate the movements of naked ladies, wrestlers, athletes, elephants, cockatoos and his own naked body, projecting his images publicly with a machine he invented and astounding audiences worldwide with the first flickerings of cinema. Alan Yentob follows in Muybridge's footsteps as he makes — and often changes — his name, and sets off to kill his young wife's lover. With Andy Serkis as Muybridge.
This short excerpt from Gary Leva's feature documentary Fog City Mavericks tells the story of San Francisco artist Eadweard Muybridge, who invented motion pictures. To see the entire film, watch 1, 2, 3, 4, 5.
Eadweard Muybridge: The Stanford Years 1872–82 (1972). Catalogue for the exhibition held at Stanford University Museum of Art in 1972. Edited by Anita Ventura Mozley. Publisher Department of Art, Stanford University, 1972. 136 pages via Archive.org
Download (60 MB, no OCR)
Happy 74th birthday Francis Ford Coppola! Read, Watch, Listen, and Learn from the Master.
A fascinating chronicle of the birth and rise of the radically different independent studio founded by director Francis Ford Coppola.

A Legacy of Filmmakers: The Early Years of American Zoetrope, narrated by Richard Dreyfuss. This 63-minute documentary covers the rise and fall of the struggling young studio during the late 1960s and early 1970s, touching on everything from the influence of Easy Rider to the bitter clash between Warner Bros. and American Zoetrope over the film itself. In all fairness, though, it's great to see Warner Bros. swallow their pride by allowing this documentary to be presented objectively (one might be reminded of the clash between Universal and Terry Gilliam over Brazil, and the wonderful documentary produced for The Criterion Collection). Among other highlights, A Legacy of Filmmakers features short interviews with the likes of Martin Scorsese, Steven Spielberg, and Francis Ford Coppola. Overall, it's a great piece for anyone interested in film history, and as relevant to THX 1138 as any other bonus feature in recent memory. —Randy Miller III

"I'm not the oldest of the young guys.
 I'm the youngest of the old guys"
— Francis Ford Coppola

The Early Years of American Zoetrope: A History in Two Parts
Chris Marker's One Day in the Life of Andrei Arsenevitch is perhaps the best film yet made by one (great) film-maker about another. A revelatory document, loving, lucid and lyrical, on the elemental structuring of Tarkovsky's work, it marries moving footage of the terminally ill director shooting and struggling to finish his final film The Sacrifice with an exemplary assessment of the films and their importance, humane, humble and always open. In its own essential way, it too is a masterpiece. —Gareth Evans
A Personal Journey with Martin Scorsese Through American Movies (1995). A 14 part film studies course that you can take from anywhere in the world and learned from again and again.
With thanks to TheDozingLion
Despite its nearly four-hour running time, this is a uniquely personal look at movies from one of the late 20th century's great directors and film historians. The film consists of head & shoulder shots of Scorsese speaking into the camera for a minute or two, followed by 10-15 minutes of film clips with Scorsese voice-over. Scorsese approaches the films in terms of how they affected him as a director foremost and as a storyteller/film fan second. Segments include "The Director as Smuggler," "The Director as Iconoclast", and so on. The Journey begins with silent masters like D.W. Griffith and ends in 1969 - when Scorsese began to make films; as he says in closing, "I wouldn't feel right commenting on myself or my contemporaries."
We love Martin Scorsese to death — and we could listen to the man talk about cinema for hours on end. Scorsese's passion for the artform is palpable when he speaks, yet unlike so many beginning Film Studies professors, Scorsese makes even the historical evolution of the medium fascinating. As proof, we offer you this presentation from the Raging Bull filmmaker from the 2013 Jefferson Lecture in the Humanities, presented by Scorsese himself back on April 1 at the Kennedy for the Performing Arts. Scorsese's discussion, entitled "Persistence of Vision: Reading the Language of Cinema", is an hour-long breakdown of the history and magic of movies as only the filmmaker can present it. The speech contains not only historical facts about the evolution of cinema as an artform (including the observation that it really doesn't matter who started cinema — because "all beginnings are unfathomable"), but also some very personal observations from Scorsese's own life revealing how his love for the movies blossomed from early childhood.
The multimedia presentation is as interesting as one would expect, with Scorsese working in still images and scenes from films to help make his points. The opening features a sequence from 1950's The Magic Box that seems perfectly fitted to the topic at hand. It's not all history, though – Scorsese gets technical too, showing how image restoration works to make less than pristine prints of movies look new again while explaining things like auteur theory. It's like a master class in cinema – and it'll only take up an hour of your time! Check out the video here. If you're a fan of Scorsese or just interested in the evolution of one of the world's greatest artforms, this is essential viewing. Oh, and if you want to skip the preamble, Scorsese's actual presentation starts at around the 23-minute mark. —Mike Bracken
2013 Jefferson Lecture Live Stream

The essential documentaries on Martin Scorsese, including The Scorsese Machine (1990), A Personal Journey with Martin Scorsese Through American Movies (1995), American Masters: Martin Scorsese Directs (1990), A Decade Under the Influence (2003), Italianamerican (1974), American Boy: A Profile of: Steven Prince (Martin Scorsese, 1978), Glass: A Portrait of Philip in Twelve Parts (2007), and The Real Goodfella (2006).
Andrei Tarkovsky — the man who sculpted in time, "the one who invented a new language, true to the nature of film, as it captures life as a reflection, life as a dream" — was born on this day in 1932.
The longer I work in cinema the more convinced I am that this domain of art is not ruled by any laws. I do not even attempt to find them… Everything is possible. —Andrei Tarkovsky
The essential documentaries on Andrei Tarkovsky, including Directed by Andrei Tarkovsky (1988), Donatella Baglivo's Andrei Tarkovsky in Nostalghia (1984), One Day in the Life of Andrei Arsenevitch (2001), Andrei Tarkovsky: A Poet in the Cinema (1983), Voyage in Time (1983), Andrei Tarkovsky & Sergei Parajanov: Islands (1987), Tarkovsky Interruptus (2012), Andrei Tarkovsky interview (1986, RTB, sinkronizirano na srpskom), and Tarkovsky's Very First Films: Three Student Films, 1956-1960.

During the shooting of Andrei Tarkovsky's last film Offret, cameraman Arne Carlsson taped around 50 hours of behind the scenes footage. Editor Michal Leszczylowski took the material and added scenes of previous interviews and interesting statements from the script of Offret and from Tarkovsky's book 'Sculpting in Time'. The result is a documentary that shows the way Tarkovksy worked: carefully building each scene. Shows why he did the things he did: his vision on film. And shows the emotion of the man Tarkovsky: his great disappointment when the camera breaks while shooting the house going up in flames.
Donatella Baglivo's Andrei Tarkovsky in Nostalghia is a fascinating and insightful rare documentary on Andrei Tarkovsky during the filming of Nostalghia. The documentary includes interviews with the master filmmaker, crew, and cast. "What is a film," Tarkovsky asks himself and answers, "It's a mosaic made of time." Within these 90+ minutes lies an artist at work, what goes behind the process and his creative thought, how he directs his mise-en-scène and collaborators, but most importantly, it captures a time in the life of a great filmmaker whose idea of cinema was precisely that, to capture and sculpt time.








Chris Marker's One Day in the Life of Andrei Arsenevitch is perhaps the best film yet made by one (great) film-maker about another. A revelatory document, loving, lucid and lyrical, on the elemental structuring of Tarkovsky's work, it marries moving footage of the terminally ill director shooting and struggling to finish his final film The Sacrifice with an exemplary assessment of the films and their importance, humane, humble and always open. In its own essential way, it too is a masterpiece. —Gareth Evans
One Day in the Life of Andrei Arsenevitch is just about the best analysis you will find of Andrei Tarkovsky's film style. In this exceptional film Chris Marker, in his stylistic video essay format, parallels the life of Russia's most talented director, Andrei Tarkovskij, with his most recognized films. He points out that in the first scene of Tarkovskij's first film a boy is standing at the foot of a live tree, and in his last film a man is lying at the foot of a dying tree. He points out how this symbolizes the great circle of Tarkovskij's life which was encompassed within his films. I feel that this metaphor best puts the film, and the life and works of Tarkovskij into perspective. Marker is second to none when it comes to interpreting film. He helps explain many of the obscurities found within Andrei's films perfectly, helping you realize something that you may have missed watching them the first time around.

Simultaneously, he describes the life and mind of Tarkovskij; discussing how the great director thought and was involved in every aspect of the making of his films. Marker was granted complete access to the set of Tarkovskij's final film, "The Sacrifice", and the room in which the greatest Russian director of all time lay on his deathbed. This is some of the greatest footage of Andrei ever taken, and is a MUST see for all of his fans. In the footage in which Tarkovskij is editing this, his final film, from his hospital bed, Marker succeeds in showing how the frail man was able to keep up his and the spirits of others, despite the obvious fate that would soon follow. Tarkovskij would die before this film was released. Thus Marker was given the privilege of creating a final testament on the life and work of one of, if not the, greatest director's in the history of cinema; and i couldn't imagine anyone doing a better job. Rest in Peace Andrei, the world is a much bleaker place without you, but you will NEVER be forgotten! 
Rare extensive interview with master director Andrei Tarkovsky conducted in 1983 by Donatella Baglivo.
Just like the Russian poet of the film 1983 Nosthalgia, who — accompanied by his Italian guide and translator — traveled through Italy researching the life of an 18th century Russian composer, Andrei Tarkovsky, accompanied by his Italian scriptwriter, Tonino Guerra, travels through Italy in order to find the locations for their common filmed effort. During this journey, Guerra constantly induces Tarkovskyi to reflect on his work and on his past as a filmmaker and a poet. The result will be Nostalghia, a masterpiece.
A short documentary film on the lives of two Russian filmmakers, their friendship and their artistry, with abundant footage of their works. It is stunning to see how close Andrei Tarkovsky and Sergei Parajanov were to their friendship, how two artists can be like brothers. Furthermore, it is revealing to see how much they fought for their art against a government that tried to constrain their visions. A wonderful window to these two filmmakers.
An evening screening and discussion of Andrei Tarkovsky's 1979 film Stalker, with writers Geoff Dyer, Phillip Lopate, and Francine Prose; master film and sound editor Walter Murch; spaceprobe photo curator, filmmaker, and writer Michael Benson; and Slate film critic Dana Stevens; introduced by New York Institute for the Humanities director Lawrence Weschler. On the occasion of the publication of the novelist-essayist Geoff Dyer's latest digressive interpretive rhapsody, Zona: A Book About a Film About a Journey to a Room, the New York Institute for the Humanities, in conjunction with the Illustration Department at Parsons The New School for Design, presented a screening of the film in question, the legendary Soviet master Andrei Tarkovsky's 1979 masterpiece Stalker, introduced by Mr. Dyer, but then interrupted, every half hour or so, by a conversation among a distinguished panel of Tarkovsky fanatics.
Intervju koji je Tarkovski dao za RTB 1986. godine. Sinkronizirano na srpskom. Usput, pozdrav svim posjetiteljima bloga iz Hrvatske, Srbije, BiH, Makedonije, Slovenije…
Andrei Tarkovsky's Very First Films: Three Student Films, 1956-1960.
It's All True (1993). A documentary about Orson Welles's unfinished three-part film about South America.
The history behind Orson Welles' planned third feature, after his debut (which we all know the name of) and during his troubled post-production on Magnificent Ambersons and role in Journey into Fear, is as fascinating and miraculous as the footage still salvaged. Welles was sent down to make a "good-will" doc on a carnival in Rio. When he got there, he was over-whelmed with the "humanity" of the people, and got pieces of footage whenever he was awake during the time of the carnival. He also filmed footage on a sound-stage (one of his few times to work with color) of the people in their celebration. But as he focused a crucial part of his documentary on a story he read on Time, about four impoverished, immensely courageous fishermen wanting to see their government and sailing hundreds of miles over two months on a raft to do so, the plug was pulled on the film. Apparently the studio, which switched hands (hence, the Ambersons situation), didn't like what Welles' was showing them, which was a bunch of dailies without the essential musical element. So, Welles, not fazed by the rumors that he was partying the whole time with the Brazilian brethren, did what any creative genius would do — he went from being a wunderkind in Hollywood to a Guerilla filmmaker along the high seas.

It's All True, the original title of the scrapped-by-the-studios project, is put into two parts, and while it resonates with the kind of movie-doc exposition of Lost in La Mancha in the first part, the second part is simply put, Wellesian. Richard Wilson (once Welles' assistant), Bill Krohn, and Myron Meisel, gather up interviews with the real locals from the time, or relatives, and put together a sort of video history on the tale of the Jangadeiros, and Welles's impact on the people (many of whom never saw a movie before). First, there are wonderful, if all-too-brief, clips of an unfinished part of the documentary called "My Friend Bonito". Then, we get to see an inside look at how the (un-true) rumors of Welles' debauchery that supposedly ruined the project, ironically, forced Welles' to cut corners to get his vision done - which becomes more intense after the original leader of the fishermen, Jacare, dies in a drowning accident. There are interesting interviews as well with Welles and his collaborators. Some of this is rather adulatory, but it's also enthralling as a trip into a time capsule, and into a director's process (i.e. using an extremely limited budget to finish the film).

And the second part of the film is, aside from the part on the film's checkered history, is a unique example of history itself. "Four Men on a Raft", Welles' silent-film dramatization of the events as detailed in the Time article, is for me one of the greatest silent films never seen. Like in Citizen Kane, he uses some of his trademarks, like inventive low-angles and deep focus, but as well he implements such a heavy documentary style (some have said it's "Eisenstein-like", which I can see since it concerns a story of the working people against the fascist-types), it's no less than one of Welles' most daring feats as a director. Although this version has no audible dialog (people talk, no voices), and unlike many other silent-films there are no inter-titles explaining what they say. On top of that, there is a musical score provided by Jorge Arrigada that is rousing and pretty appropriate for the tones and sections of the film, but is arguably not what Welles' might have used. What is extraordinary about this kind of dramatized (and I say dramatized because there is an added love story in the mix, not based on truth) film is that it's the precursor to neo-realism that barely saw the light of day.

It's amazing that by himself, Welles' managed to form together his own sort of storytelling style in what remains of his film, that is very simplistic and completely with non-actors, and makes it work as a remarkable piece of art. The camera just watches things happen, and how it watches is all the more special in how Welles, with his cinematographer George Fanto, uses as much expressionism as naturalism in the compositions. Bottom line, this one part of the film is as courageous as the people who inspired it, and as a piece of film history, It's All True successfully provides insight and enjoyment. After all, what better way to showcase Orson's passion for life and film with a Samba! —MisterWhiplash
Woody Allen: Fascinating documentary made for French TV in 1979.
This fascinating documentary captures Allen not long after his Oscar success with Annie Hall and the release of his follow-up movie Interiors. Made for French TV in 1979 by Jacques Meny, and actress/journalist, France Roche, this documentary takes the neurotic King of Comedy through his childhood, early career, and success as writer filmmaker. Though the voice over is French, Allen's interview is in English. —Paul Gallagher 
Film-making is about having something to say—something that can only be said in a film and not a short story, or a play, or a novel. That's how Woody Allen described his movies—it's the best way for him to express and explore his ideas, his feelings, and well, because he has 'to do something for a living.' It was June 1979, Woody Allen was said to be hiding in Paris. His latest film Manhattan, had opened in New York to overwhelming critical acclaim. As the reviews filtered back to his hotel suite, Woody talked about the movie and film-making to Barry Norman, for the BBC's Film '79.

As Allen explained to Norman, Manhattan was inspired by a dinner conversation with Diane Keaton and cinematographer, Gordon Willis, where they discussed the idea of making a film in Black & White. 'And as we talked about it, gradually a story spun out in my mind about it. And, you know, it could be anything, it could be a sudden anger over something or, the impulse to want to dress as a pirate. You know, any one of those things could do it.'

But why Manhattan? asked Norman.

'I live in Manhattan and wouldn't think of living anywhere else, really,' said Allen, before going on to explain it's a great place to live—'because you know you're alive.' —Paul Gallagher

Clive James Meets Roman Polanski — a rare TV documentary filmed in 1984. Running 53 minutes and encompassing a wide variety of topics Polanski speaks frankly about his childhood in the Warsaw ghetto, his mothers death, his beginnings in filmmaking, his tragic marriage to Sharon Tate and eventually even his arrest for sexual assault. For fans of Polanski this DVD is worth purchasing for this insightful little documentary alone.
There's also a great, revealing interview Polanski had conducted with Diane Sawyer in 1994. If you're at all interested in the stories which surround his post-1977 life, this is a must-watch:
Seeking Locations in Palestine for the Film "The Gospel According to Matthew" (Sopralluoghi in Palestina per il film "Il Vangelo secondo Matteo") (1965).
In 1963, accompanied by a newsreel photographer and a Catholic priest, Piero Paolo Pasolini traveled to Palestine to investigate the possibility of filming his biblical epic The Gospel According to Matthew in its approximate historical locations. Edited by The GospelÔs producer for potential funders and distributors, Seeking Locations in Palestine features semi-improvised commentary from Pasolini as its only soundtrack. As we travel from village to village, we listen to PasoliniÕs idiosyncratic musings on the teachings of Christ and witness his increasing disappointment with the people and landscapes he sees before him. Israel, he laments, is much too modern. The Palestinians, much too wretched; it would be impossible to believe the teachings of Jesus had reached these faces. The Gospel According to Matthew was ultimately filmed in Southern Italy. Mel Gibson would use some of the same locations forty years later for The Passion of the Christ.
Previously on Cinephilia and Beyond:
Whoever Says The Truth Shall Die (1981) — documentary on the life and death of Pier Paolo Pasolini. Philo Bregstein tells us this film looks at Pasolini's life and art to explain why he died. The film traces Pasolini's life chronologically — family roots, hiding during World War II, teaching, moving to Rome, being arrested and acquitted many times, publishing poems, getting into film, being provocative, and being murdered. Interviews with Alberto Moravia, Laura Betti, Maria Antonietta Macciocch, and Bernard Bertolucci are inter-cut with readings of Pasolini's poems and with clips from four films — primarily The Gospel According to St. Matthew — to illustrate his changing ideas and points of view. Bregstein makes a case for Pasolini's being lynched.
A rare documentary, circa 1965. This is a real gem!
Meet Marlon Brando is a delightful, unusually candid portrait of the world-famous movie star: A tongue-in-cheek confrontation with the press. While television journalists interview him about his most recent film, Brando counters their futile questions with wit and insight, a man unwilling to sell himself. "It's a wonderful show," one woman comments about the new project. "Did you see it?" he asks. "No, I haven't seen it yet." "Then how do you know?" Always smiling and never modest, Marlon Brando shines in one of his most revealing performances. The film premiered at the New York Film Festival in 1966, and has been telecast with much acclaim in France.
"…the actor was never more appealing than in this candid
camera cameo" — THE NEW YORK TIMES

"…possibly the best and most appealing personal portrait
of a major film star ever made" — THE NEW YORK POST

"… enchanting… clever… delightful… beguiling…"
— VARIETY
In 1965 (after a string of box office flops) Marlon Brando opted to play ball for the studio — doing a rare press tour in support of Morituri. The documentary filmmakers — Albert and David Maysles — were on hand to record the encounters in a delightful and unusually candid portrait of the world-famous movie star during this fascinating tongue-in-cheek confrontation with the press. While television journalists interview him about his most recent film — Brando counters their futile questions with wit and insight — a man unwilling to sell himself. Always smiling and never modest — a very cheeky Marlon Brando shines in one of his most beguiling performances… Brilliant!
Terrific documentary covering Marlon Brando's 1965 press junket for the film Morituri, which has the actor sitting in a hotel lobby and answering questions from various reporters. In my opinion Brando was the greatest actor to ever grace the movie screen and he was also one of the most fascinating people to listen to. He has several interviewers asking him questions ranging from various subjects including his films, Civil Rights, the American Indian and other social issues and it's great to see how he tackles these various subjects. Needless to say, he's really not interested in talking about his movies or what a great actor he is. He certainly doesn't do his film any justice as he either doesn't want to talk about it or throws mild insults at it. The real charm is seeing how Brando talks to the reporter depending on whether they're female or male. With the male reporters he doesn't really take them too serious and blows off the majority of their questions. With the females, he turns on that classic charm and spends most of the interview flirting with them. This makes for some great laughs and it's easy to see why the women would fall to their feet for him. The film runs 25-minutes and there's not a boring moment anywhere in it and it's a shame there couldn't have been more to see.
@lafamiliafilm this is a seminal doc… Highly influential in its day, but virtually non-existent since. Thank you for keeping this going!

— Jacob Rosenberg (@banditojacob)
A wonderful fan made documentary on Tim Burton by Sean Pultz.