If you've ever wondered what a conversation between Quentin Tarantino and Brian De Palma would be like, then the documentary in the video embedded above has – among many other things – the answer to such curiosity. A BBC production from 1994, Quentin Tarantino: Hollywood's Boy Wonder profiles the titular filmmaker in the wake of the success of his now-classic Pulp Fiction.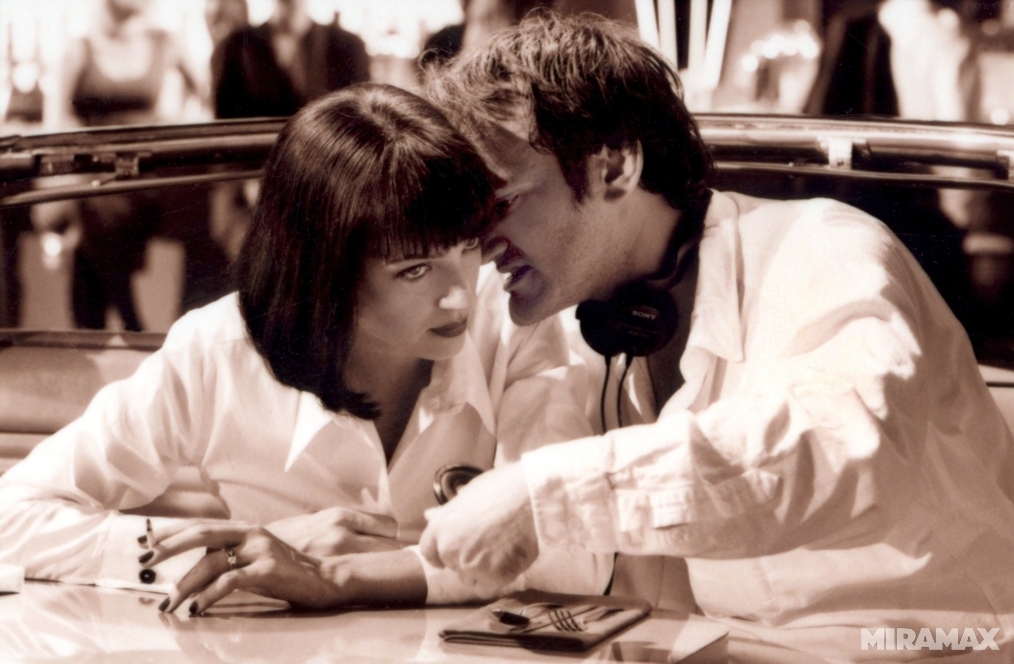 The documentary is mainly comprised of interviews, many with the director himself in his apartment, but the highlight for most will be the scene of Tarantino and De Palma talking about the similarities in their careers of having to deal with public attention regarding the violent content in their films (this comes after an extended sequence featuring Tarantino explaining his love for De Palma, which includes a personal scrapbook of printed interviews and a description of the influence that Casualties Of War had on certain elements in Reservoir Dogs). —The Seventh Art
Here is the script for Pulp Fiction, written by Quentin Tarantino & Roger Avary; Masterclass de Cannes; Tarantino on screenwriting…
Every wondered where Tarantino got the overdose/adrenaline shot story in Pulp Fiction?
Read the comments on Reddit.
American Boy: A Profile of Steven Prince is a 1978 documentary directed by Martin Scorsese. Its subject is Scorsese's friend Steven Prince, best known for his small role as Easy Andy, the gun salesman in Taxi Driver. Prince is a raconteur telling stories about his life as an ex-drug addict and a road manager for Neil Diamond. Scorsese intersperses home movies of Prince as a child as he talks about his family. When talking of his years as a heroin addict, Prince tells a story about injecting adrenaline into the heart of a woman who overdosed, with the help of a medical dictionary and a Magic Marker. This story was re-enacted by Quentin Tarantino in his screenplay for Pulp Fiction. Prince also tells a story about his days working at a gas station, and having to shoot a man he caught stealing tires, after the man pulled out a knife and tried to attack him. This story was retold in the Richard Linklater film Waking Life.
Here is the script for Pulp Fiction, written by Quentin Tarantino & Roger Avary. (NOTE: For educational purposes only)
We just took all the best scenes we had ever written, and we packed them up, and we went to Amsterdam. Quentin rented this apartment, and we laid them out on the floor and basically just started moving them around… Our one requirement was that every scene should be able to stand on its own and be able to be performed in an acting class. A couple of actors should be able to do it together and it should be contained that way. No establishing shots… No wasted space, no traveling here and there, just no fat. It had to be the best material we had written to that point. We laid it out and we started changing names and piecing it together… It underwent a number of passes and pretty soon it was what you see. When we finished that script it was taken to… TriStar and a producer named Mike Medavoy. We turned it in and they said 'this is the worst screenplay that this film company has ever been handed. This is awful. It's not funny. It makes no sense. This guy's dead, he's alive. What's going on?' They put it into immediate turnaround…

You have to remember, Reservoir Dogs, in the United States, made less money than Leprechaun. I didn't have huge expectations for this. I wasn't thinking we were going to change film history with this movie. I just thought we put our hearts and souls into this thing, and it is what it is… Thank god for Harvey and Bob Weinstein who immediately picked it up out of turnaround and gave Quentin the power to make the script as it was. Not a single thing was really changed. Some things were removed, there were a couple of scenes that were taken out in editing, but truth be told, Quentin was given complete and total command to make that movie exactly as he sees it in his head. That's a gift to be given that. I'm really grateful to Harvey and Bob for that.

Since then, I've bumped into those executives who were in that room (at TriStar) and each one tells me 'I was the one fighting for you. I was the one guy in the room fighting for you, fighting for that brilliant script.' The only guy who was really honest about it was Mike Medavoy who was running TriStar at the time. I met with him later on and he actually said, 'I made a mistake. I got to tell you, it was a weird time in my life, I didn't really understand it. It just read very violent… And I was wrong.' And that's rare. I so deeply respect Mike Medavoy… It's a real testament to him that someone in Hollywood would say 'I was wrong' because that never happens. —Roger Avary, Tarantino's co-writer on Reservoir Dogs and Pulp Fiction
More: Pulp Fiction
American Boy: A Profile of: Steven Prince (Martin Scorsese, 1978)
On March 17, 1994 I visited writer/director Quentin Tarantino at the Los Angeles house where he was editing his new film, Pulp Fiction, a trilogy of stories set in contemporary Hollywood whose cast includes John Travolta, Bruce Willis, Uma Thurman, and Christopher Walken. While his staff had lunch, we talked and took pictures. —Dennis Hopper
Blood Lust Snicker Snicker in Wide Screen
Dennis Hopper/Quentin Tarantino

Casting proved to be one of the biggest challenges in making the movie. Harvey Weinstein was dead-set against giving the role of Vincent Vega to John Travolta. "John Travolta was at that time as cold as they get," says Mike Simpson, Tarantino's agent at William Morris Endeavor. "He was less than zero." Simpson had given Weinstein a "term sheet" of Tarantino's demands, which included final cut, a two-and-a-half-hour running time, and final choice of actors. "One of the actors I had on the list was John Travolta," says Tarantino. "And it came back: 'The entire list is approved … except for John Travolta.' So I got together with Harvey, and he's like, 'I can get Daniel Day-Lewis, Sean Penn, William Hurt.'" By then, according to Simpson, "Daniel Day-Lewis and Bruce Willis, who was the biggest star in Hollywood, had both gotten their hands on the script and wanted to play Vincent Vega."

The negotiations for Travolta came down to the wire. "At midnight our time, three in the morning in New York, Harvey said, 'Let's just close the deal, and we'll address that tomorrow in good faith,'" Simpson recalls. But Simpson told him, "You're going to agree to it right now, or there's no deal.' Later, when the Weinsteins saw the finished film in Los Angeles, Harvey announced facetiously, 20 minutes into the screening, according to Richard Gladstein, then head of production at Miramax, "I'm so glad I had the idea to cast John Travolta."
The Pulp Fiction Oral History: Uma Thurman, Quentin Tarantino, and John Travolta Retrace the Movie's Making
Here is the script for Pulp Fiction, written by Quentin Tarantino & Roger Avary. (NOTE: For educational purposes only)
Top 10 Charlie Rose Interviews of Film Directors.
Lucky for us Charlie Rose is a huge movie buff and he conducts the best interviews with film directors. Charlie's interviews go beyond the generic interviews that directors usually do to promote their movies, and he asks the great questions that film aficionados want to hear. A few interviews are conducted with people who knew the filmmaker closely for the great directors Alfred Hitchcock and Stanley Kubrick. Enjoy these interviews with some of cinema's great artists.
1. An Hour with Filmmaker George Lucas
George Lucas sits down for an hour long conversation with Charlie Rose in this interview and chronologically goes through his moviemaking career from his days at USC film school up to creating the Star Wars prequels. He talks about his financial and technological struggles to get his visions on the big screen and how he has finally attained financial independence as an artist to create the movies he wants to make without having to answer to anyone. George also passes on his wisdom about storytelling, education, artistry, and parenting.
2. A Conversation about Alfred Hitchcock
As the undisputed "Master of Suspense", Alfred Hitchcock left behind a large body of work that continually explored the darker depths of the human heart. Here, Charlie Rose talks with the director's daughter Patricia along with noted film director/historian Peter Bogdanovich on the centennial of his Hitchcock's birth. Topics include Hitchcock's dogged attention to detail, his writing methods, which films of his own he preferred best, and where he ranks with the great masters of cinema history.
3. An Hour with Filmmaker James Cameron
Known as "Iron Jim" to friends and critics alike, James Cameron rose from humble beginnings as a truck driver to become the "King of the World" with his mega-blockbuster Titanic. Here Charlie Rose talks with the director at length about what went into making the most expensive film ever made, and how he managed to balance historical fact with romantic fiction. Cameron's talent for managing complex productions that still strike a chord with a broad audience has made him one of the most successful filmmakers in the modern era; a feat no less incredible when you consider how much his ambition grows from picture to picture.
4. A Discussion with Steve Jobs and John Lasseter
Capturing a key moment in history, this interview with Steve Jobs and John Lassetter catches both visionaries at the birth of what would become the most successful animation studio in recent history. After purchasing Pixar in 1986, shortly after his initial ouster from Apple, Jobs helped shepherd Lassetter and his team towards the first digitally animated movie, Toy Story, a box-office success that was followed by a string of hits that has not let up to date. Watch for an interesting moment near the end where Jobs tactfully dodges Charlie Rose's question about a possible return to Apple; and even that actually did come to pass later that same year!
5. An Interview with Quentin Tarantino
Coming off the wild success of his independent film breakout hit Pulp Fiction, super cool film director Quentin Tarantino sits down with Charlie Rose and talks about his craft and where his career is going to go from here. Tarantino talks about his childhood watching movies and his days as a video store clerk. He discusses his unorthodox way of storytelling, his method of writing, and his love of following the careers of film directors of which he mentions his favorites. Finally he talks about his first two films Reservoir Dogs and Pulp Fiction. Watch film geek Tarantino enthusiastically riff on his love of movies.
6. An Hour about the Life and Work of Filmmaker Stanley Kubrick
With a photographer's eye, a philosopher's curiosity, and a searing intellect, Stanley Kubrick's films have cut a distinctive path through cinematic history with a scope that is still hard to estimate. Here Charlie Rose talks with the late director's widow Christiane, his lifelong friend Jan Harland, and adds modern master Martin Scorsese into the mix to round out the table. Christiane Kubrick provides heartwarming insight on their marriage, while Harland and Scorsese weigh in on why Kubrick's films such as 2001, The Shining, and Dr. Strangelove continue to provoke, compel, and stimulate new generations of filmgoers.
7. A Conversation with Roman Polanski
In this interview, filmmaker Roman Polanski speaks about filmmaking, personal tragedy, and the legal trouble that has kept him from returning to the United States. Charlie Rose does not shy away from confronting the director of such classics as Rosemary's Baby and Chinatown on why he hasn't faced the legal ramifications of a rape charge that made him flee for Europe in 1977. Polanski also reflects on the loss of his mother at Auschwitz, his lonely childhood in war-torn Poland, losing his wife in the Manson family murders, and his current life as a French citizen.
8. An Interview with Oliver Stone
Director Oliver Stone is known for his political and historical films and in this interview with Charlie Rose, Stone talks about his film Nixon. Stone gives us his interpretation of the man Nixon and covers some of the more controversial aspects of his film. He also gives us his philosophy on drama and its ability to convey the shadow side of history which is often not the version put into the history books. Get a history lesson from Oliver Stone with this hour long talk about Nixon.
9. A Talk with Director Tim Burton
Director Tim Burton talks with Charlie Rose about his recent film and art exhibit at the Museum of Modern Art. In the first 10 minutes MOMA's exhibit curators talk about putting on the exhibition. Then Burton discusses some of his sketches and talks about how he went from being a weird and quiet teenager to a filmmaker extraordinaire. Burton talks about his love of masks and how they bring out new aspects in his performers such as with Jack Nicholson made up as the Joker in his film Batman or Johnny Depp in the wide variety of outfits he has suited up for in many Burton films. Burton feels that all kids are artists and doodlers up to about age 12, but then for various reason these creative instincts are suppressed as people get older, and both Tim and Charlie find this unfortunate.
10. A Conversation with German Director Werner Herzog
German film director Werner Herzog sits down with Charlie Rose in this 23 minute interview and discusses his prolific filmmaking career. Herzog gives some insight into the making of his film Fitzcarraldo about which he recently published his personal diaries in a book called Conquest of the Useless. He talks about his philosophy of filmmaking and his search for the "ecstatic truth" when it comes to the many documentaries that he has shot over the years. Herzog also addresses his talent for bringing out the best in actors such as his unique gift for harnessing the talent of German actor Klaus Kinski.
A Django Unchained film slate was recently given to Gudmundur Felix Gretarsson. The slate is signed by Quentin Tarantino himself as well as all the stars of the film: Jamie Foxx, Christoph Waltz, Leonardo DiCaprio, Samuel L. Jackson, Dennis Christopher, James Remar, Walton Goggins and the beautiful Kerry Washington. All of them agreed to sign the slate for auction to help raise funds for Gudmundur Felix to realize his dream. More info about Gudmundur and the fundraising.
Django Unchained script for your consideration.
Quentin Tarantino's famous 'Top Gun' speech was originally written by the filmmaker and his friend, Roger Avary, for another project. The speech is fully scripted word by word used by Tarantino.
Do you think that repetition of a phrase or word in dialogue enhances its power for an audience or detracts from it?
Well I do that a lot. I like it. I think that in my dialogue there's a bit of whatever you would call it, a music or poetry, and the repetition of certain words helps give it a beat or a rhythm. It just happens and I just go with it, looking for the rhythm of the scene.
Quentin Tarantino
INTERVIEWED BY ERIK BAUER
Creative Screenwriting, VOLUME 5, #1 (JANUARY/FEBRUARY 1998)
Previously on Cinephilia & Beyond:
Quentin Tarantino & Paul Thomas Anderson on audience/violence.
Filming the dance sequence from Pulp Fiction (1994, dir. Quentin Tarantino).
Previously on Cinephilia & Beyond:
'Kill Bill' behind the scenes.
When PLAYBOY interviewed Quentin Tarantino in 2003, it had been six years since the release of Jackie Brown, and as he prepared for the release of Kill Bill, the question loomed: Could Tarantino, who had broken all the rules, changed the crime genre with Reservoir Dogs and the Oscar-winning Pulp Fiction and spawned a legion of imitators, keep it up?
Playboy Interview: Quentin Tarantino
by Michael Fleming, November 15, 2012
Playboy Interview: Quentin #Tarantino, November 15, 2012 cinephilearchive.tumblr.com/post/358405031… via/HT @emmafgreen #filmmaking

— LaFamiliaFilm (@LaFamiliaFilm) November 16, 2012
Harvey Weinstein's reaction the first time he read 'Pulp Fiction'.
It's from the new 20 Years of Filmmaking segment, a retrospective on Tarantino's career as seen through the lense of coworkers, critics, actors and fellow filmmakers. The clip we've been given to share features producer Richard Gladstein doing an impersonation of Harvey Weinstein's reaction to reading Pulp Fiction for the first time. It's a funny, personal story about the early days of one of the best films ever made, and it's the kind of nugget that should make any film geek smile. By Peter Hall
Previously on Cinephilia & Beyond: