"HOLLYWOOD'S BEST FILM DIRECTORS" is a half hour show that offers a distinctive peek inside the creative minds of Hollywood's best directors. A personal and insightful look into the lives, influences and original style of today's top film directors. A fascinating profile that explores each directors unique process for creating some of the most memorable and enduring movies of our times.
Please enjoy some of our programs in this screening section. These are no trailers, what you can watch are the full length shows.
I consider my films first and foremost to be dramas about individuals in personal struggles and I consider myself to be a dramatist before I am a political filmmaker. I'm interested in alternative points of view. I think ultimately the problems of the planet are universal and that nationalism is a very destructive force. I also like anarchy in films. My heroes were Buñuel and Godard. Breathless was one of the first pictures I really remember being marked by, because of the speed and energy. They say I'm unsubtle. But we need above all, a theatre that wakes us up: nerves and heart.

I love intelligent films that come at you fast. I don't have attention deficit disorder, my mind moves fast. There's a lot to deal with in my films. We had so many facts to go through, so the governing style was flash, cut, flash, repeat.

I wasn't prophetic. It was there all around us. Money was the sex of the 1980s.
Oliver Stone has written, directed, and produced some of the most powerful films of the last thirty years. His films are always controversial, dark, and unforgettable. Known for writing such classics as Scarface, Platoon, Born on the Fourth of July, Natural Born Killers, and Evita, Stone is a true Hollywood legend. (NOTE: Screenplays for educational purposes only)
It's truly an honor to be followed by the great @TheOliverStone, one of my favorite screenwriters/directors.
Previously on Cinephilia & Beyond:
In 1976 I optioned "Platoon" to a producer, but it was not made. The production manager asked me to entrust him with many of my prints and negatives from Vietnam. He thoughtlessly sent it all in a package from New York to Los Angeles, but it never arrived. I'm sure they're somewhere in this world—anyone know (reward offered)? So recently when we were setting up our website, I went hunting thru storage for various materials that are now on the site—or will be. In the back of a home closet was an old shoebox marked 'classic snaps, 1950s.' There were many family pictures, but at the very bottom were 7 envelopes of worn-looking negatives in 35mm and the vanished 126 format. They looked vaguely like Vietnam. It is an amazing moment when something lost reappears after more than 40 years.

I developed 100+ of these pictures at a shop in Los Angeles that could actually handle the 126 format. Not everything came out by any means, but there were certainly some colorful, well-preserved images of the war—of which I enclose a few shots for those who might be interested, or who've seen "Platoon," "Born on the Fourth of July," or "Heaven & Earth."

I enclose some descriptions:

With some of the 'brothers.' These guys were fun to be with back in base camp in the rear, and made some of the dreariest hours pass with laughter, grass, and music—mostly a lot of soul from The Temptations, Sam Cooke, Otis Redding, Smokey Robinson, Spyder Turner, the Chamber Brothers, etc. These were taken in the last part of my tour in late '68 with the 1st Cavalry in the Quảng Trị area—as well as some shots from the central province where our divisional headquarters was located at An Khe. You'll see some of 'Sin City' and some of the girls who worked in the bars—just surviving this war. And that beautiful police dog who was killed, as so many were. —Oliver Stone
'Movie Masterclass' series was based on a format that I devised as Head of Direction at UK's National Film & Television School. Initially it was called 'Steenbeck Analysis' because the film was put on a Steenbeck editing machine. In an 8-hour day we would scrutinise some 20 minutes of the film - it was a living entity, the more we examined it, the more it revealed. It was an exhilarating experience. Students couldn't have enough of it. The analysis of Kurosawa's SEVEN SAMURAI was the students' favourite.

Kurosawa Productions later bought the programme and it was aired on NHK TV.
Movie Masterclass: The Seven Samurai
For more information about Mamoun, his work and Masterclasses, visit http://moviemasterclass.wordpress.com/
Everything you missed and everything you'd want to revisit, in one place — Best of Cinephilia & Beyond 2012.
Enjoy, and may 2013 be inspired in every possible way.
(NOTE: For educational purposes only)
Harsh Country: Joel and Ethan Coen wrestle with point of view and capturing the inner lives of the strong silent types in Cormac McCarthy's No Country for Old Men — their first produced adaptation of a novel.
BY JEFF GOLDSMITH (creativescreenwriting January/February 2008)
As for the Coens' writing habits, they enjoy writing together in the same room. "We sit in a room together and talk the scene back and forth — we kind of write it all together. We don't trade drafts," Ethan says. "But here's the thing about creative screenwriting," Joel explains. "The most important aspect of it that I think is somewhat neglected is that most of the time we spend writing creatively, we're actually napping." "A lot of napping," Ethan chimes in, just in case anyone doubted Joel's statement. "For years and years we would go into the office religiously every day at 9 or 10 in the morning and spend most of the day there, and my wife would accuse Ethan and me of essentially going in there and sleeping, and we would deny it," Joel says. "But about two years ago we decided that it was time to admit that, in fact, that is what we do most of the day."

When writing during their awake moments from an average 10 a.m. – 5 p.m. day, the Coens explain there's nothing high-tech about their always-unique dialogue. "We've never recorded it," Joel says, "except orthographically." Ethan adds, "We do talk a scene back and forth." Joel elaborates, "We don't do any research either. We won't visit an area. We write out of complete ignorance really and essentially make it up. A lot of research gets done sort of after the fact in production by the art department, the costume department, the production designer — that sort of thing. But we're not big on that. We're from the make-it-up school."
"NO COUNTRY FOR OLD MEN" Adapted Screenplay by JOEL COEN & ETHAN COEN for your reading pleasure [pdf]. (NOTE: For educational purposes only)
Previously on Cinephilia & Beyond:
In the interview which follows, initially published in 1996, Joel and Ethan Coen discuss the writing and filming of Fargo, its precise characterizations, acting performances and the visual style that emphasizes the spiritual landscape of the bleak Midwestern setting.
Previously on Cinephilia & Beyond:
Chinatown commentary track with screenwriter Robert Towne and David Fincher
Andrei Tarkovsky's advice to young directors. Scene three from Voyage in Time (Tempo di Viaggio), where filmmaker Andrei Tarkovksy dispense advice to beginning filmmakers, while scouting out locations for a movie he and Tonino Guerra are doing.
Backstage on the making of Donnie Brasco (Mike Newell - 1997)
Clapper Boards from Stanley Kubrick's films.
Directors Joel and Ethan Coen on the set of Miller's Crossing
"A lot of people told us that Fargo was so limited and so focused that it couldn't possibly succeed." Ethan Coen

"I don't know that I am [creative]. That's for other people to decide. I guess it beats throwing trash for a living." Joel Coen

"I was always interested in movies the way everyone is interested. That is, I liked to go to the movies." Ethan Coen

"Somebody once asked us about [John] Turturro, if we developed a shorthand with him working together over the course of all these movies. And we said, 'It's beyond shorthand. We don't even talk to him!'." Ethan Coen

"The criminals in our movies are, generally speaking, knuckleheads, so there is something amusing about them. You know what I mean? Their sins can sort of be looked at in an amusing way." Joel Coen

Shaun Usher: "The late, great Saul Bass had a brilliant signature (the letter's to Kubrick, btw)."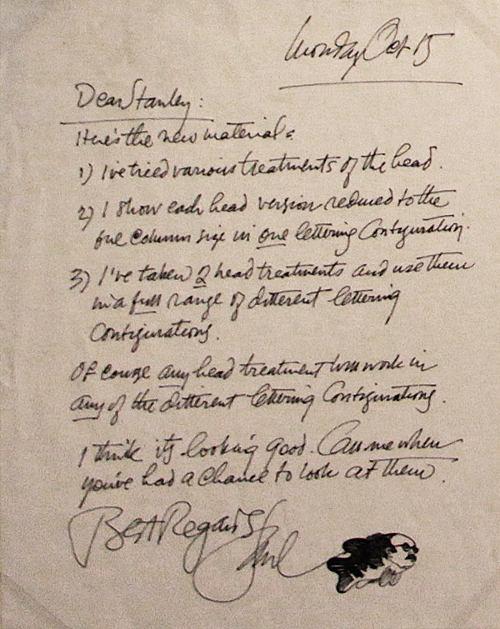 Tony Curtis shows director Stanley Kubrick some card tricks on the set of Spartacus
Saul Bass title sequence - Spartacus (1960)
Ironic that the titles and production value of this documentary are actually terrible, considering that Saul Bass is the most famous title sequence designer. Nonetheless it is a mesmerizing look at some of the best movie title sequences of all time, narrated by Bass himself. "To make the ordinary extraordinary" as he puts it toward the end of the video. I think that almost sums up his art and what he was trying to do with movie titles and opening sequences. An amazing talent.

A short featurette examing the collaboration between Alfred Hitchcock and Saul Bass:

Set to a bebop jazz beat, this documentary brings to life the extraordinary work of graphic designer Saul Bass, whose groundbreaking title sequences for Hitchcock's films transformed the art of movie titles. Through interviews with directors such as Martin Scorsese and Guillermo del Toro, this film reveals why Bass is still considered the medium's greatest artist.

Watch it here.
Robert Bressons' Notes on Cinematography [pdf] (NOTE: For educational purposes only. Unfortunately, the book is out of print)
this is 75 pages long, and every single one of them is worth reading right now.
"Notes" on Notes on the Cinematographer
Being published in 1978, this book is very rare now.
It's only 32 pages long but Chaplin: Clown and Genius — A Tribute to Charlie is the finest tribute I have read about one of four of the greatest comedians the world has known. The other three kings of slapstick comedy, in my opinion, are Buster Keaton, Laurel & Hardy and Marx Brothers. Do I hear murmurs?

Published in 1978 by World Distributors (Manchester) Ltd, this little-long book contains only three chapters—The Early Years, Exit the Clown and The Final Curtain—and is interspersed with large, and some rare, black-and-white photographs that trace Chaplin's hugely successful cinematic journey from pre-WWI to post-WWII.

The narrative under each chapter is insightful in that it provides the reader with more than a peep into Chaplin's chequered, and often controversial, life from his birth in England in 1889 to his death in Switzerland in 1977, at the age of 88.

The Early Years chapter begins with these words, "If there was one thing that the vaudeville stage and the slapstick screen was not lacking in America in the years that led up to the First World War it was comedians. It was into this thickly populated business in 1913 that Charles Spencer Chaplin, aged 24, came from Britain."

The book is full of little but meaningful anecdotes. For instance, of his curious makeup and wardrobe, Chaplin has said, "On the way to the wardrobe I thought I would dress in baggy pants, big shoes, a cane and derby hat. I wanted everything a contradiction: the pants, the baggy, the coat tight, the hat small and shoes large. I was undecided whether to look old or young but remembering (Mack) Sennett (American director of slapstick comedy) had expected a much older man, I added a small moustache…"

Perhaps, no other toothbrush-like moustache on the upper lip of a man has launched a career that has scaled to such stratospheric heights as Chaplin's.

As the unknown writer of this tribute notes, "Chaplin's choice of the baggy trousers, the bowler hat, moustache and cane was itself a stroke of genius, for it gave him eccentricity combined with a touch of realism. He was the universal man, battered but brave, whom everyone would recognise." And none would forget for a long time.

The photographs from cover to cover are a visual treat and even more so if you are a Chaplin fan. Most of the pictures are stills from his vast repertory of films; a few show the clown white-haired and ageing yet full of life; still others portray Chaplin with his family, wife Oona and daughter Geraldine, or receiving an Oscar for lifetime achievement in 1972.

Two photographs stand out. One is that of Sophia Loren and Marlon Brando in a scene from A Countess from Hong Kong, written and directed by Chaplin in 1967. It also starred his younger son Sydney Chaplin. The other is that of a Swiss police officer in a poignant moment, giving a last salute to Chaplin as his coffin is carried to a cemetery in Switzerland.

"The great man—the little man—died peacefully on Christmas Day, 1977. Perhaps, the finest tribute to him then was paid by a writer who, echoing the shock of his passing to a world made sadder for it, said: 'He achieved greater, more widespread fame in his own lifetime than perhaps anyone else in the history of mankind.' For a slum-born who once laid down his head on a bare mattress on an attic floor, with only a bowl of soup to keep him alive, it had certainly been an amazing lifetime," the writer concludes his eulogy.

Postscript: Chaplin: Clown and Genius — A Tribute to Charlie appears to be out of stock. Amazon and eBay don't have it. I do, picked it up for $1 from a roadside bookseller in Bombay, and it's not for sale. One must hold on to the clowns and geniuses in one's life.